New Short Fiction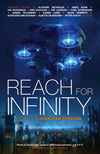 "Attitude"
A near-future, hard SF look at contests and conflicts in low-Earth orbit. Included in Jonathan Strahan's hard science fiction anthology Reach For Infinity (May 2014).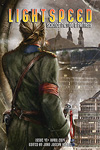 "Codename: Delphi"
Near-future science fiction from the story world of my Nebula-nominated novel The Red: First Light. Read it online in the April 2014 issue of Lightspeed Magazine.
Click here for more short fiction
---
contact: linda at mythicisland dot com
Aloha!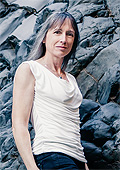 ... and welcome to my personal website. I'm Linda Nagata, a science fiction and fantasy writer from Hawaii. I've published eleven novels—soon to be twelve—and numerous short stories.
My science fiction novels are usually considered "hard" science fiction, with an emphasis on character and story. The Bohr Maker won the Locus Award for best first novel, my novella "Goddesses" was the first online publication to receive a Nebula award, my 2013 story "Nahiku West" was named as a finalist for the Theodore Sturgeon Memorial Award, and my novel The Red: First Light has recently become the first self-published novel to be nominated for a Nebula Award.
I also have a duet of short, fast-paced fantasy novels collectively titled Stories of the Puzzle Lands. Call them quirky sword and sorcery, or scoundrel-lit with heart: they touch on themes of love, war, murder, marriage, and fate, with some dark humor thrown in to make it all flow.
All my books are available through my own publishing imprint, Mythic Island Press LLC. All have ebook versions, and most are also available in print.
If you'd like to know what's going on and when I have new work coming out, please consider signing up for my "very occasional newsletter" (see the "New Book Alert" form below). It's the best way to stay in touch. You can also follow me on twitter. If you've read and enjoyed my work, I hope you'll consider writing a review on Amazon or Barnes & Noble, or mentioning it on social media. I'm ever grateful for your support!
Aloha!
contact: linda at mythicisland dot com
---
New Book Alert / Newsletter
Want to be notified when a new book or short story is out, along with other writing-related news? Use this form to sign up for my very occasional newsletter. Your email address will be used only for my newsletter, will not be shared, and of course you can unsubscribe at any time.
---
Please visit my blog and let me know what you think! I would love to hear from you.
December 2, 2014
Top-Ten List at io9.com
io9.com likes to come up with top ten lists. Today it's the
"10 Most Important Science Fiction Books About Superintelligence"
-- and one of my books is included!
My first novel,
The Bohr Maker
, comes in at #7.
Hey, it's fun to be remembered! And that's impressive company.
---
THE RED: FIRST LIGHT
A near-future science fiction thriller
Nominated for the 2013 Nebula Award (Novel)
Nominated for the Campbell Memorial Award
On the Locus Recommended Reading List
"There Needs To Be A War Going On Somewhere"
Lieutenant James Shelley commands a high-tech squad of soldiers in a rural district within the African Sahel. They hunt insurgents each night on a harrowing patrol, guided by three simple goals: protect civilians, kill the enemy, and stay alive—because in a for-profit war manufactured by the defense industry there can be no cause worth dying for. To keep his soldiers safe, Shelley uses every high-tech asset available to him—but his best weapon is a flawless sense of imminent danger...as if God is with him, whispering warnings in his ear. (Hazard Notice: contains military grade profanity.)
OTHER BOOKS
Goddesses & Other Stories by Linda Nagata
Ten science fiction stories, including my Nebula Award winning novella "Goddesses." This collection brings together for the first time my short fiction, originally published in Analog Science Fiction & Fact, The Magazine of Fantasy & Science Fiction, More Amazing Stories, and SciFi.com.
Two Stories: "Nahiku West" & "Nightside On Callisto" by Linda Nagata
Two science fiction stories originally published in 2012. Both stories have been included in 2012 best-of-the-year anthologies!
The Nanotechnology Novels . . . now, The Nanotech Succession
The nanotechnology novels were originally published from 1995 through 1998 by Bantam Spectra. In November 2010 they were re-published as ebooks by Mythic Island Press LLC under the collective title The Nanotech Succession. Each novel works as a stand-alone story, but since they share the same story world and sometimes the same characters, they can also be read as a loose series. Tech-Heaven is a near-future prequel. The Bohr Maker is Book 1, followed by Book 2, Deception Well, and culminating in Book 3, Vast.
Other Story Worlds: